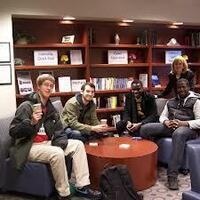 Amica Center
Bryant University's nationally recognized Amica Center for Career
Education is here to help make connections -- not only among students, alumni mentors and potential employers, but also by helping you connect your interests and goals to a path that will lead you to success in an age of unlimited global opportunity.
Our state-of-the-art center provides a comprehensive career development, corporate recruiting and academic internship programs.
Spend four days in NYC meeting key players in the fashion industry. This tour will expose you to the many aspects of this exciting industry. One-hour Info...
Recent Events



Richard Robinett left a positive review
2/23/2015
The event was very helpful, a lot of information was given on how to work the career fair in a better manner and what to do after the fair.

Hannah Crofut left a positive review
12/4/2014
Extremely Helpful!!!


Mohammad Raissi left a positive review
4/3/2014
The class was well designed, promptly managed the expectations. Amy was excellent in its lecturing and instructions. Hand outs were appropriate and I sure like to see many more. Thx for organizing it.
MR

Amica Center posted a photo
4/24/2013