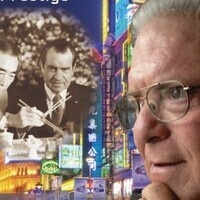 Ambassador Freeman on U.S.-China Relations
Ambassador Chas W. Freeman, Jr., an American diplomat, businessman and writer who was the Chinese interpreter for President Nixon during his historic visit to China in 1972, will present "Interesting Times: China, America, and the Shifting Balance of Prestige."
His presentation, which is free and open to the public, is part of the China Seminar Series offered by the U.S.-China Institute at Bryant. Chinese food will be provided.
Ambassador Freeman is a retired career diplomat who was assistant secretary of defense for International Security Affairs from 1993-94. He earned the highest public service awards of the Department of Defense for his roles in designing a NATO-centered post-Cold War European security system and in reestablishing defense and military relations with China. He served as U.S. ambassador to Saudi Arabia (during operations Desert Shield and Desert Storm). He was principal deputy assistant secretary of state for African affairs during the historic U.S. mediation of Namibian independence from South Africa and Cuban troop withdrawal from Angola.

Ambassador Freeman was deputy chief of mission and chargé d'affaires in the American embassies in Bangkok (1984-1986) and Beijing (1981-1984). He was director for Chinese affairs at the U.S. Department of State from 1979-1981. He also had a tour of duty in India.
Ambassador Freeman chairs Projects International, Inc., which helps its partner enterprises and clients create business ventures across borders.
For questions, please contact:
Kongli Liu, Ed.M., Associate Director for Academic Programs
U.S.-China Institute
Email: kliu1@bryant.edu
Tel: 401-232-6566
Monday, April 7, 2014 at 5:00pm to 6:30pm
Event Type

Sponsor

Website
Cost

The seminar is free and open to the public.

Subscribe