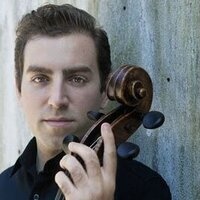 An Evening of Classical Favorites
Bryant University and the President's Cultural Series present classical cello-piano duo: Cuban-American cellist Thomas Mesa and Russian pianist Ilya Yakushev.
As an enthusiastic interpreter of music for choir and cello, Thomas was a featured instrumentalist on The Crossing Choir's album "Bonhoeffer," nominated for a Grammy Award in 2017.
Highlights of Yakushev's 2017-18 season include return appearances with the St. Petersburg Philharmonic, Edmonton Symphony, Las Cruces Symphony, and Reading Symphony, as well as performances with Decatur Symphony and Johnstown Symphony.
Ticket Information
To reserve tickets call (401) 531-6662
General admission tickets are $20.
Bryant Alumni: $10 if reserved in advance, $15 night of event. Register at www.bryant.edu/alumnievents or call (401) 531-6662
Smithfield residents may receive two complimentary tickets. Additional tickets are $20.
Tickets are $10 with ID for non-Bryant students and teachers.
Bryant students, faculty and staff may receive complimentary tickets. Visit the Fisher Student Center Information Desk (on the first floor) beginning Oct. 11.
Thursday, November 2, 2017 at 7:00pm
Event Type

Sponsor
Cost

General admission tickets are $20. Tickets are $10 if reserved in advance and $15 on the night of the concert for Bryant alumni. Smithfield residents may receive two complimentary tickets. Additional tickets are $20. Tickets are $10 with ID for non-Bryant students and teachers. Bryant students, faculty and staff may receive complimentary tickets which will be made available at the Fisher Student Center Information Desk (on the first floor) beginning Oct. 11.

Subscribe