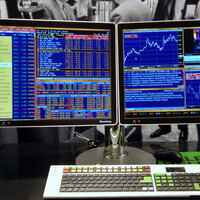 Intro to Bloomberg Terminal Training
This event is an introductory training session to use the Bloomberg terminals that will be available at Bryant beginning spring semester.
A Bloomberg terminal is an advanced computer system with integrated financial software. It allows users to access real-time financial data and news on markets, economies, and businesses around the world. The terminal can also facilitate trade placements and act as a messaging platform for other users on Bloomberg terminals. The vast content, trending news filters, research and analysis tools, and software integration are just some of the many key features.
One of Bryant's initial goals is to create a competitive advantage by requiring Bloomberg certification for all College of Business and Economics students.
Bloomberg will offer more advanced training during the semester.
Off-campus access to the session will be available to registrants. Contact ofdi@bryant.edu for details.
Please register for this workshop by clicking the red REGISTER button at right or go to http://bookme.bryant.edu/event/3075345
Wednesday, January 18, 2017 at 10:00am to 12:00pm
Academic Innovation Center, 119
1150 Douglas Pike, Smithfield, RI 02917
Event Type

Sponsor
Subscribe