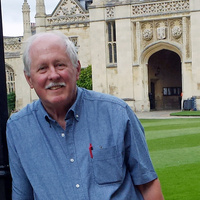 Bryant International Forum
The Internationalization Imperative:
Why All Universities Need to Internationalize and Why Many of them Probably Won't
Sponsored by Division of International Affairs
Dr. Riall Nolan
Professor of Anthropology
Purdue University
(Light lunch is provided at noon-12:30pm and the forum starts at 12:30pm.)
Dr. Nolan will address the following topics at the forum:
What students need to learn in preparing them to succeed in this rapidly-changing environment;
How recent and current political developments impact internationalization;
As a student, how you can ensure that your undergraduate years have a strong international flavor;
Making your university more international despite everything: choices made today can bring long-term rewards;
In the coming years, our best universities will be the ones which have incorporated an international outlook.
Dr. Riall Nolan is a Professor of Anthropology at Purdue University, and a specialist in international development. Until July 2009, he was Associate Provost and Dean of International Programs at Purdue.
Trained as a social anthropologist (PhD, University of Sussex 1975), Dr. Nolan has managed international programs at both the University of Pittsburgh and the University of Cincinnati before joining Purdue in 2003. At Purdue University, his office oversaw study abroad, international students and scholars, strategy and policy development for overseas activities, as well as the development of international linkages. In 2005, Purdue University won NAFSA's prestigious Simon Award for international education.
Dr. Nolan is active in both AIEA and the Society for Applied Anthropology. He teaches a master's course in development anthropology at Cambridge University (UK) each fall, and presents frequently on issues of international development, applied anthropology, and the strategy and practice of international education. His most recent books include Internationalizing Higher Education (2016) from Harvard Education Press, and Using Anthropology in the World (2017) from Routledge.
For more information and questions, please contact:
-----------
Kongli Liu, Ed.M.
Associate Director for Academic Programs
U.S.-China Institute
Bryant University
Email: kliu1@bryant.edu
Tel: 401-232-6566
Thursday, April 20 at 12:30pm to 1:30pm
Event Type

Sponsor
Subscribe