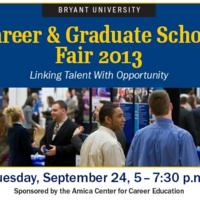 Career and Graduate School Fair
The Career and Graduate School Fair brings together over 750 Bryant undergraduate/graduate students and alumni, along with approximately 100 organizations and graduate schools, to the Bryant campus. It also attracts employers who are seeking to hire May/December graduates as well as spring and summer interns.
No matter your year or major, consider attending the fair to:
- Learn about fall recruiting opportunities in advance of fall resume deadlines.
- Learn about anticipated recruiting needs in the coming year.
- Meet with employers to learn about other departments and potential opportunities.
- Speak with graduate school representative to learn about options upon graduation or in the future.
Tuesday, September 24, 2013 at 5:00pm to 7:30pm
Event Type

Sponsor
Subscribe