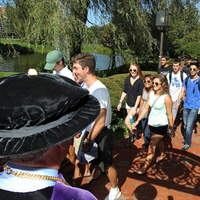 Convocation 2014
Convocation is one of the oldest of all academic traditions. It is rich in pageantry and meaning for the academic community. Each fall, the Bryant Convocation celebrates the first gathering of the entire Bryant community during the new academic year. This is an important time as we assemble to recognize and greet each other and to welcome new members to our community. Most significantly, the tradition behind Convocation calls for all of us to reaffirm our commitment to the shared values and purposes that set us apart as a community dedicated to the educational enterprise.
The pageantry of Convocation begins with a procession led by trumpeters. The Convocation Committee would like to invite the entire Bryant Community to attend this year's event.
A Save the Date email with location information will be sent soon.
Wednesday, September 3, 2014 at 3:30pm to 4:30pm
Bryant University
Event Type

Sponsor

Tags
Subscribe