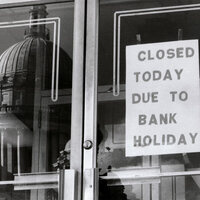 Crisis of Confidence: The RI Credit Union Collapse
On January 1, 1991, Rhode Island Governor Bruce Sundlun marked his first day in office by shutting down 45 financial institutions to prevent a complete collapse of the credit union system in the state.
Join us for a discussion of a new case study on the crisis by Dr. Melissa Prosky and a mini-documentary featuring key voices from this pivotal era in Rhode Island's history.
Our response panel will include John Marion, Executive Director, Common Cause Rhode Island; Elisabeth Harrison, News Director, Rhode Island Public Radio; and Ross Cheit, Professor of Political Science, Brown University, and Chair of the Rhode Island Ethics Commission.
The event is free but advance registration is requested.
Presented by the Hassenfeld Institute for Public Leadership in partnership with Common Cause Rhode Island and Rhode Island Public Radio.
Tuesday, November 13, 2018 at 7:00pm to 9:00pm
Event Type

Sponsor

Website
Cost

Free with advance registration

Hashtag

Subscribe

Sarah Garnsey left a positive review
11/13/2018
Interesting look back at a "sad, sordid episode," and an important cautionary tale for the future of politics and governance.