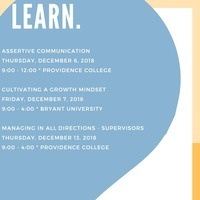 RIHETC - Cultivating a Growth Mindset
Understanding and developing your own mindset, not only is possible and necessary, but will bring out the best in each of us. By cultivating a "growth" mindset vs a "fixed" mindset each of us can increase our talent and abilities, seek challenges, learn through mistakes, be persistent in the face of setbacks, and be inspiring to ourselves and each other. In this workshop, you will engage in reflection, discussion and real-life actions you can take to cultivate a growth mindset.
Friday, December 7, 2018 at 9:00am to 4:00pm
Bryant University
Event Type

Sponsor

Website
Subscribe

Patrick McIlveen left a positive review
12/7/2018
Really fun, engaging, and thought-provoking. Helped me reflect on my position and home life.