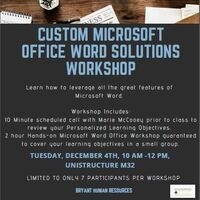 Custom Microsoft Office Word Solutions Workshop
Learn how to leverage all the great features of Microsoft Word with Marie McCooey the Software Trainer.
Workshop Includes:
10 Minute scheduled call with Marie McCooey prior to class to review your personalized Learning Objectives.
2 hour Hands-on Microsoft Word Workshop guaranteed to cover your learning objectives in a small group.
Tuesday, December 4 at 10:00am to 12:00pm
Unistructure, M32
Sponsor
Cost

Free

Subscribe