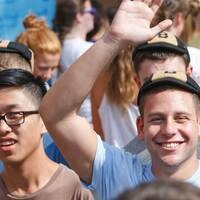 Fall Open House
Join us for a day - meet the people, see the facilities, and learn about our innovative programs that can help you create your path, expand your world and achieve a lifetime of success.
The program includes academic overviews, a student organizations fair and a campus tour. A special session for transfer students will be offered. Athletic coaches will be available from 9-10 AM.
Online registration is now open.
Registration begins in the Elizabeth and Malcolm Chace Wellness and Athletic Center beginning at 9:00 AM. The program begins at 10:00 AM.
Saturday, September 28, 2013 at 9:00am to 2:30pm
Event Type

Sponsor
Subscribe