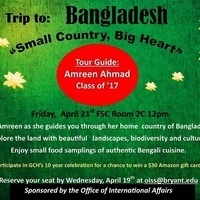 Global Community Hour - Trip to Bangladesh
Global Community Hour allows you to travel to a distant land with one of our very own international students. Experience culture, indulge in the cuisine, and learn the traditions of different countries around the world, all without ever leaving campus!
Travel reservation to Bangladesh is requested by Wednesday, April 19th at oiss@bryant.edu. Contact Kaoru Paganelli at kpaganel@bryant.edu for questions.
Sponsored by the Office of International Affairs.
Friday, April 21, 2017 at 12:00pm to 1:00pm
Fisher Student Center, 2C
1150 Douglas Pike, Smithfield, RI 02917
Event Type

Sponsor
Subscribe