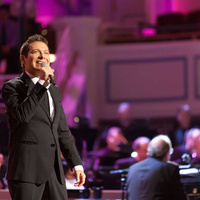 President's Cultural Series: Michael Feinstein
The President's Cultural Series presents Michael Feinstein, the multi-platinum-selling, two-time Emmy and five-time Grammy Award-nominated entertainer dubbed "The Ambassador of the Great American Songbook."
Doors open at 7 p.m.
Learn more about Michael Feinstein here.
Ticket information
- General admission: $20
- Smithfield residents may receive two complimentary tickets; additional tickets are $20.
- Non-Bryant students and teachers: $10 with I.D.
To reserve tickets call (401) 531-6661
- Bryant alumni: $10 if reserved in advance, $15 at the door. Register online at www.bryant.edu/alumnievents or by calling (401) 531-6661.
- Bryant students, faculty, and staff may receive two complimentary tickets. These tickets will be available at the Fisher Student Center Info Desk (on the first floor) beginning September 30.
Thursday, October 24, 2013 at 7:30pm
Event Type

Sponsor
Cost

See description of event for ticket price ranges.

Subscribe