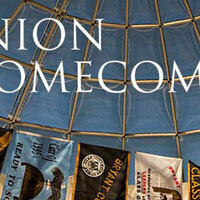 Reunion@Homecoming 2018
Alumni and friends return to campus for a weekend of fun activities, catching up, and reconnecting with old friends and alumni from across the decades.
Schedule highlights include Alumni golf, Alumni Welcome Reception featuring class of 1988 hosted wine tasting, Big Bingo, and Fireworks on Friday, Sept. 21
On Saturday, start the day with our annual Memorial Service followed by a Bryant-Robert Morris football game, and end with reunion year (3s or 8s) parties.
Visit Bryant.edu/reunion for more information about Reunion@Homecoming 2018!
Contact alumni@bryant.edu or (401) 232-6040 with questions or concerns.
Saturday, September 22, 2018
1150 Douglas Pike, Smithfield, RI 02917
Event Type

Sponsor

Website
Cost

$15 Registration Fee

Hashtag

Subscribe