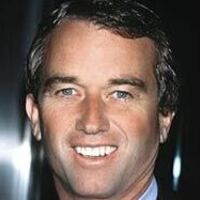 Robert F. Kennedy, Jr.
The Student Arts and Speakers Series Committee invites you to hear guest speaker Robert F. Kennedy, Jr., visionary environmental activist and business leader.
An agent of change among environmental activists, Kennedy will share a bold vision for America's future in which energy independence and sustainable technology revitalize the nation's economy.
As chief prosecuting attorney for the Hudson Riverkeepers and president-at-large for the Waterkeeper Alliance, Kennedy continues to lead the fight against corporations that pollute the nation's waterways. He cemented his reputation as a high-profile activist with the publication of Crimes Against Nature, which called into question the country's environmental policies.
One of Rolling Stone magazine's "100 Agents of Change," he will outline steps we can take to reduce the national debt and increase U.S. economic competitiveness by investing in the development of sustainable technologies.
Free tickets for students, faculty/staff and guests are available at the Information Desk in Fisher Student Center.
If you have any questions please email them to aahmad@bryant.edu
Tuesday, March 28 at 5:00pm
Event Type

Sponsor
Cost

free

Subscribe