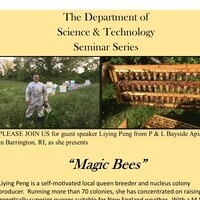 Science Seminar Series: Magic Bees
Please join us for guest speaker Liying Peng from P & L Bayside Apiary in Barrington, RI, as she presents "Magic Bees." Liying Peng is a local queen breeder and nucleus colony producer. Running more than 70 colonies, she has concentrated on raising genetically superior queens suitable for New England weather.
With a M.S. degree in nutrition, Liying is also interested in single resource local honey production. This presentation will focus on honey bee biology and some of the distinguishing characteristics.
Wednesday, February 28, 2018 at 2:00pm to 3:00pm
Unistructure, 268
Event Type

Sponsor
Subscribe