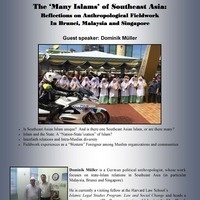 The "Many Islams" of Southeast Asia: Reflections on Anthropological Fieldwork in Brunei, Malaysia and Singapore
Please join speaker Dominik Muller as he discusses: Is Southeast Asian Islam unique? And is there one Southeast Asian Islam, or are there many? Islam and the State: A "Nation-State'ization" of Islam? Interfaith relations and Intra-Muslim diversity. Fieldwork experiences as a "Western" Foreigner among Muslim organizations and communities.
Dominik Muller, a visiting fellow at the Harvard Law School's Islamic Legal Studies Program: Law and Social Change, is a German political anthropologist, whose work focuses on state-Islam relations in Southeast Asia (in particular Malaysia, Brunei and Singapore).
Wednesday, April 25, 2018 at 2:00pm to 3:00pm
Machtley Interfaith
Event Type

Sponsor
Subscribe